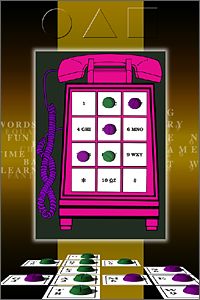 Can a game be educational in the use of letters, words, and numbers-and, at the same time, be fun, fast, and challenging? Too many kids and adults alike are intimidated by word and number games. Yet, virtually every day they eagerly use a device with letters and numbers-the telephone. Enter TIC TAC PHONE, a new board game using cards and markers, that combines features of Tic Tac Toe and word games. The game board has the format of a slightly modified phone keypad, with letters and numbers placed in squares to correspond to the number positions and letter groupings found at the respective push button locations of typically used phones. The only change is that the square that has a "0" on a regular phone now has a "10" on the Tic Tac Phone; this square also contains the letters "Q" and "Z" which are not found on a regular phone.
Tic Tac Phone is a fast moving game that starts with markers being placed on the phone keypad squares on the gameboard. Upon landing on a gameboard square, points are obtained to start scoring. Bonus points are then added if a player occupies 3 squares in a row in any direction-as in the lining up of Xs and Os in Tic Tac Toe (see diagram). Each square also contains letters which are traded for cards with letters and point values on them. The cards are then used to form words in crossword fashion, gaining further points (see bottom of diagram). Hence Tic Tac Phone is a combination board game and card game.
Another special feature of Tic Tac Phone-like all of GENCO's games-is its intergenerational design. It has built-in equalizers (handicaps) that adjust for different age and skill levels, making this truly a family game, providing balanced competition for all age groups age 8 and older. Moreover, Tic Tac Phone is actually 4-games-in-1, with each game clearly described and illustrated in the rule book, all of them providing new challenges each time you play. Odd numbers of players can also participate. When two or more play on the same team, this is referred to as a "party line".
A brief game (a 911 Call) lasts approximately 30 minutes; a regular game (a Local Call), approximately one hour; an extended game (a Long Distance Call), approximately two hours.
A one-sheet Rules-in-Brief is included to speed dial right into the game, along with a comprehensive, illustrated Rule Book.
Tic Tac Phone is also artistically designed, like GENCO's other games which have been featured in three Smithsonian lectures and recognized in national and international, juried art competitions. The game has been entirely designed and manufactured in the U.S.A.
The cost of the game is $39.95 which includes shipping and handling (See Order Form).
NOTE: At this time, games should NOT be Added to the Cart for shipment outside the United States. See note at bottom of Order Form for international shipping.